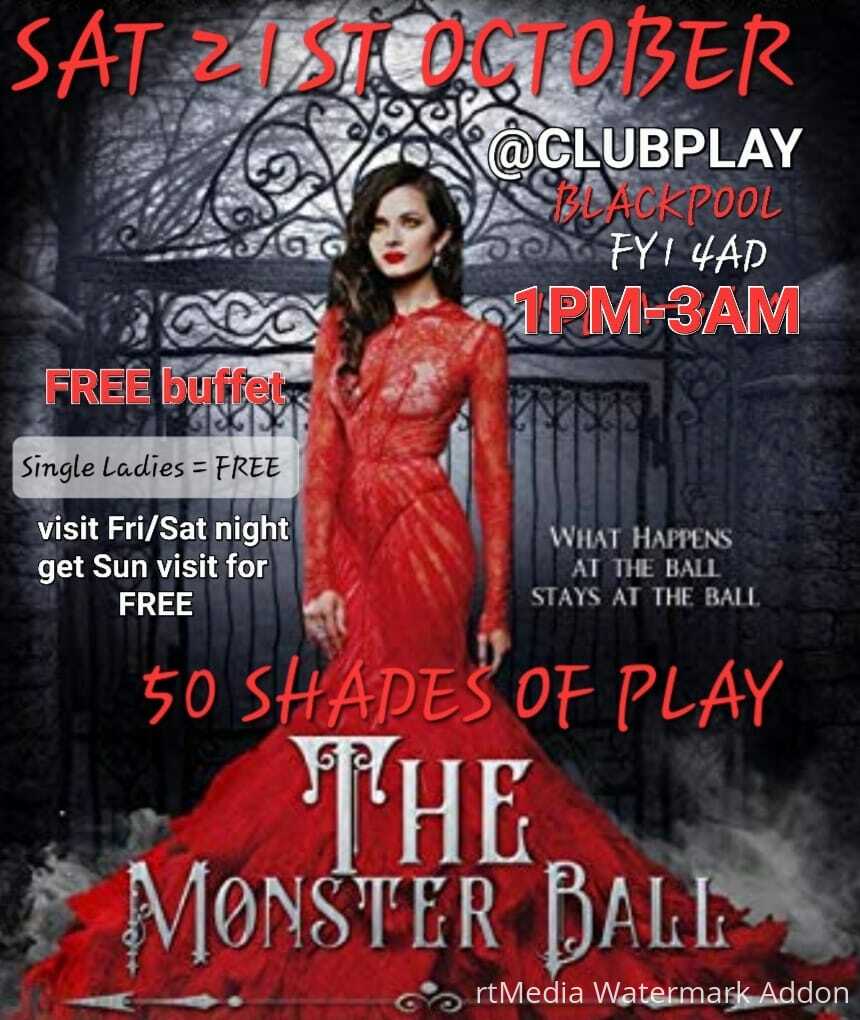 This segment of 50 Shades brings you to our….. MONSTER BALL 
With HALLOWEEN around the corner, you get to PLAY your WAY in a FREAKISHLY good way.
Will the VAMPIRES sink their fangs into your PULSATING veins
WITCHES, WARLOCKS & SIRENS alike will be amongst us casting their spells of SEDUCTION.
THE BEASTS will awaken once more and the NIGHT of THE MONSTERS be ALIVE TO PARTY INTO THE DEAD OF THE NIGHT! 

The pool table is a great area to break that ice and just maybe HERMON MUNSTER may be playing himself !!!
***FANCY DRESS is OPTIONAL but always adds a FANTASTIC VIBE ***
PRIZES FOR THE BEST DRESSED ON THE NIGHT 

Club Play has excellent facilities
& plenty of private playrooms.
**NEW AIR CON** throughout to cater for all your fantasies including female glory holes & an open stage! Of course the *NEW* wet area with Hot Tub & heated pool are perfect for winding down in too.
As per all club nights, the standard rule of NO means NO will apply and breaking of this rule will not be tolerated.
This is a bring-your-own-alcohol event just purchase soft drinks at the bar.
Prices are~
Day only (1pm-7pm)
Couples £15
Single males £15
T girls £7
Single ladies *FREE ENTRY*
Night only (8pm-3am)
Couples £30
Single males £30
Single females *FREE ENTRY*
T girls £10
Day & Nihjt
Or grab yourself a bargain 15 hours & do the day & night for just £40 for couples & Single guys!
T girls £15
Single ladies *FREE ENTRY*
There is also a refundable £10 locker deposit less any drinks purchased from the bar.
£1 towel charge will be in place although you are welcome to bring your own towel if you like.
There will also be a draw on the night for anyone attending who lists a meet on their profile for *FREE ENTRY* to the next 50 SHADES OF PLAY
Adding a meet also helps you to find & connect with anyone else who's attending
**FREE ENTRY SUNDAY** for attending any Friday or Saturday night!!
We look forward to seeing you there!