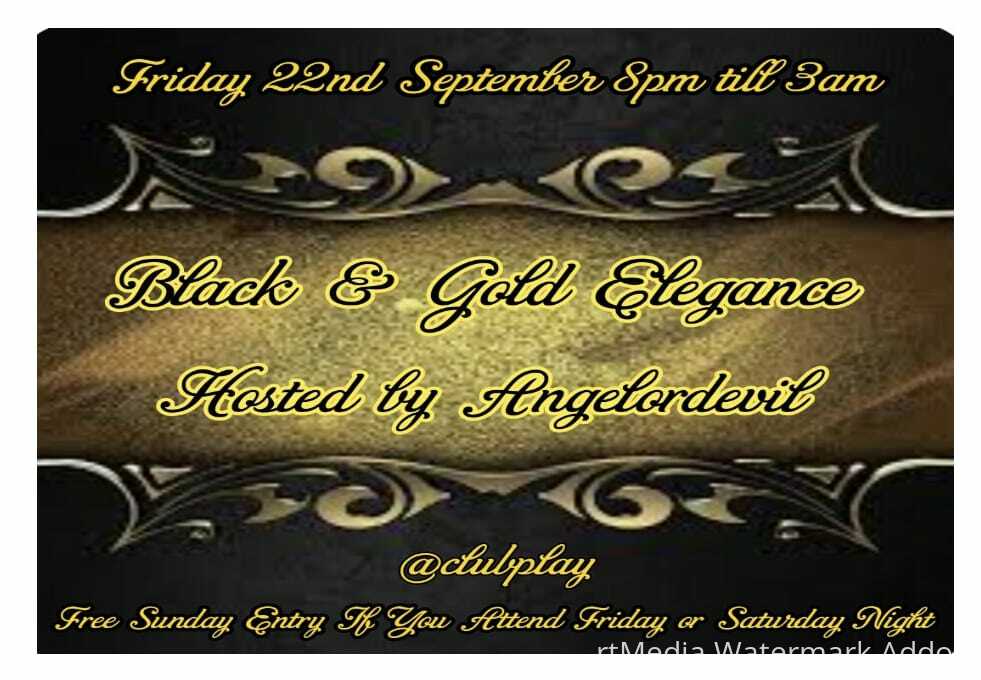 Black and Gold Elegance @ Club Play
Blackpool
8pm – 3am
Friday 22nd September
Hosted by Angelordevil
This event is bringing you a bit of elegance on a Friday night. Dig out your best black or gold outfit or black and gold and come and join us for a relaxed sexy night of fun and frolics. I shall be showing off my dark angelic side…. to start with! 

This event is open to everyone and a great way to socialise and get to know others especially if you're a little bit nervous about attending clubs.
We have 19 play rooms with a variety of themes, including dungeon, kink room, stage, gang bang room plus more and a newly refurbished wet room, includes hot tub and pool. (no full on play in the wet room) .
And if the heat gets turned up by all you sexy people we have a new air con system that's brilliant for cooling down.
This is a BYOB (bring your own booze) event, however, please purchase soft drinks/mixers/tea & coffee from the clubs well stocked bar. Please do not bring your own mixers. If you bring mixers that we do not stock there will be a £1 corkage charge per drink.
Towel charge of £1 is in place but we welcome you to bring your own should you wish to.
A £10 locker deposit will be required
(This can be redeemed off your drinks bill or returned at the end of the night).
FREE membership
Single males ………£25
Couples……..£25
Single females……FREE
Tgirls……..£10
Plus by coming to this event you will receive Free entry on Sunday the 24th September if you want to come Sunday for a more chilled out end to the weekend!
If you'd like to join me, feel free to leave a comment or message the club directly to be added to the guest list.