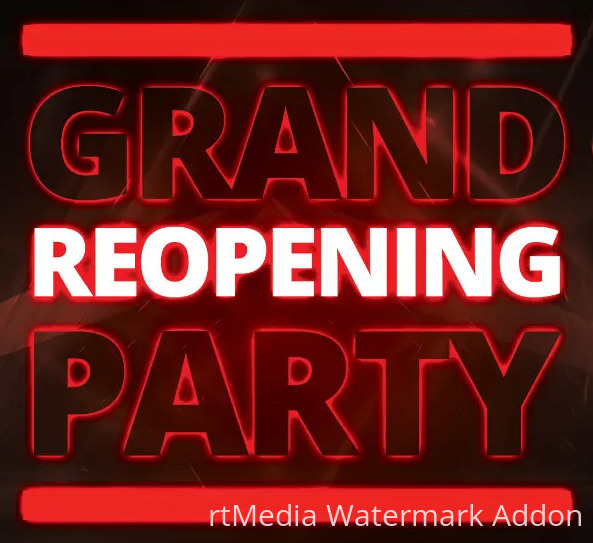 RE-OPENING PARTY 
FREE BAR/ BOOZE & BUFFET
~~~ SAT 4th FEB ~~~
TIME – 8PM – 3AM
CLUB PLAY CLOSURE ALL JAN 2023
TO MAKE £60,000 OF IMPROVEMENTS
Club Play will be closed the WHOLE of January until Saturday 4th February, with New Years' Eve being our last night open night until we reopen with major improvements of £60,000 to the Club.
These will include-
Complete NEW Air conditioning heating and cooling system in the entire club.
A NEW HEATED SWIMMING POOL is being added in the newly proposed built area of the club with the hot tub moved into this new area with the pool.
A brand new smoking area is being added.
An extra locker room is being added to the club
All carpets in the old locker rooms are being replaced.
The showers are being updated.
The odd playroom will change with others being updated but they are a surprise for opening night xxx
The plan is that club play will open more & more next year & eventually we will be open 4 nights a week Thursday, Friday, Saturday, Sunday & a few daytimes with NEW set events
We would have ideally wanted to do these changes in lockdown but the lack of funds and finance made it impossible.
ALL-INCLUSIVE PARTY PRICE –
£50 a Couple
£50 a Single Male
£20 a Sigle Lady
£20 Tgirl, TS's or Trans
£1 towel charge will be in place, you are welcome to bring your own towel.
Refundable locker deposit – £10
Free Bar will be Stocked With –

 Punch

 Prosecco, White, Red & Rose Wine

 Vodka (Branded not Cheap)

 Bacardi (Real Stuff not cheap)

 Gin (Branded not Cheap)

 Whisky (Branded not Cheap)

 Quality Lager's Usually –  Budweiser, Stella, Carlsberg, etc (Lager's can change party to party)
Soft Drinks – Coke (Real Stuff), Lemonade, Tonic Water- Diet & Full sugar in all soft drinks & assorted cans like Fanta, 7up, etc
Orange juice & Bottled water.
Please Note – We reserve the right to refuse entry to anyone we feel is d*unk on arrival or to limit their drinks if we think they have d*unk to much.
This special event will also have a –
*** FREE BUFFET ***
Why are we posting this early? because we 

 you all & it will give you chance to book hotels and guest houses now at reasonable prices – SO BOOK NOW TO AVOID DISSAPOINTMENT!
Tip – Try booking the Avant-garde swinger hotel near us but if it's booked up try booking.com and use our postcode FY1 4AB you may find that sometimes booking a full weekend is cheaper on some sites than the one-night in Blackpool xxx
We want to thank you all for your patience while we make these massive changes and move Club Play forward onto another level and we look forward to seeing you all after we reopen. To add to the guest list please add a comment below of message the club directly xxx
Paul 

 & Dawn