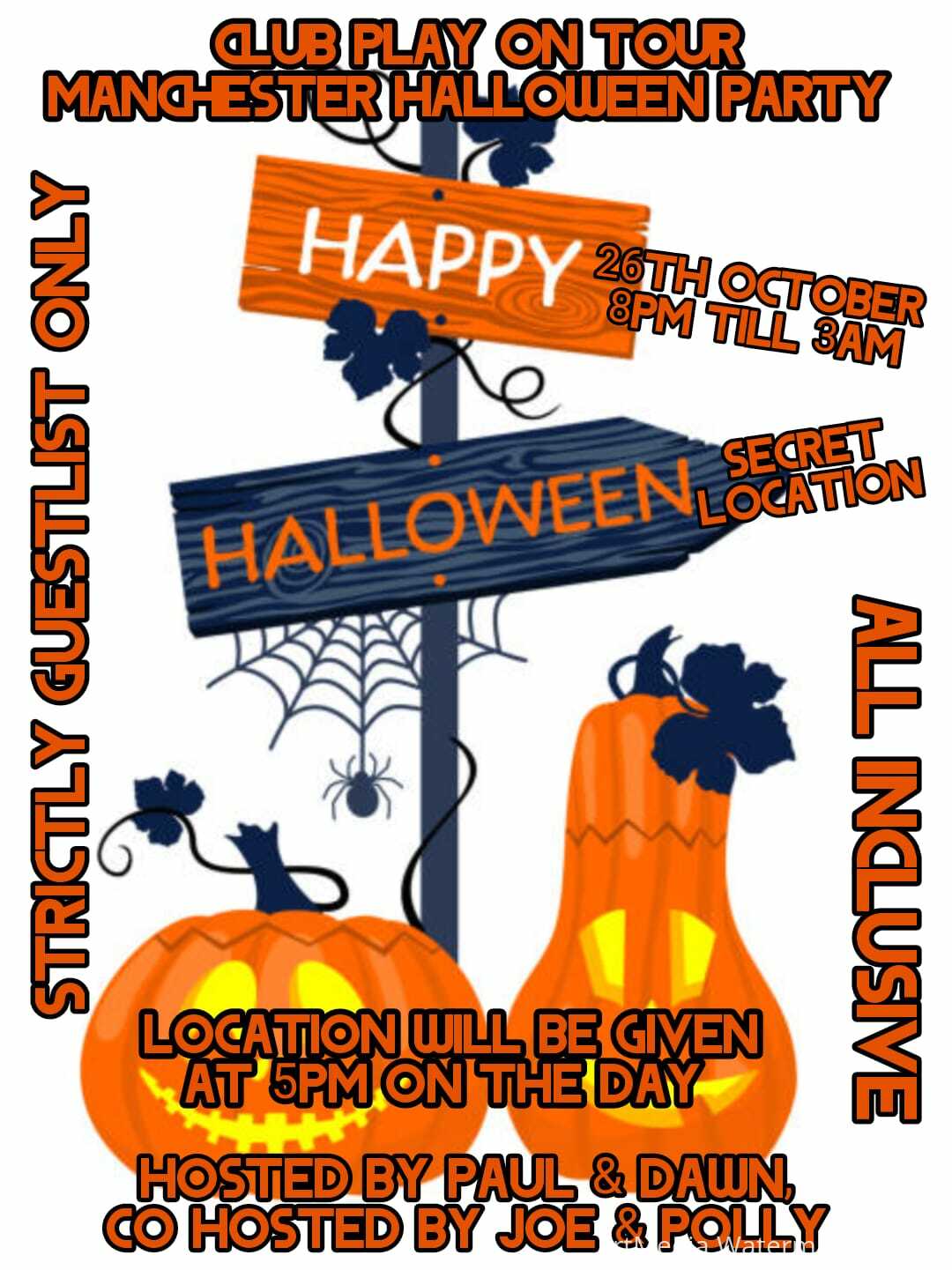 *** CLUB PLAY ON TOUR ***

 MANCHESTER 

YES! MANCHESTER CITY CENTRE!
— SECRET LOCATION —-
 HALLOWEEN PARTY 
Thursday, Oct 26th, 8 PM – 3 AM
Dress code – Halloween / Smart Causaul / Sexy outfit
Hosts – Club Play – Paul & Dawn
Co-hosts – Joe & Polly (Old Manchester co-hosting friends)
*** FREE ALL-INCLUSIVE BAR ***
By popular demand for ONE NIGHT ONLY, Club Play is cumming to Manchester!
Even before Club Play even existed, for many years we hosted some of the most legendary private parties Manchester had ever seen, and guess what? we are cumming back to party hard.

 STRICKLY GUEST LIST ONLY! 

\\\ Names are not down simply your are not getting in ///
ALL-INCLUSIVE DONATION PRICE –
FREE BOOZE AND SOFT DRINKS ALL NIGHT
£45 a Couple
£45 a Single Male
£20 a Sigle Lady
£20 Tgirl, TS's or Trans
Bar Stocked With –
 Monster Blood Punch

 Prosecco, White, Red & Rose Wine

 Vodka (Branded not Cheap)

 Bacardi (Real Stuff not cheap)

 Gin (Branded not Cheap)

 Whisky (Branded not Cheap)

 Quality Lager's Usually – Budweiser, Stella, Carlsberg, etc (Lager's can change party to party)
Soft Drinks – Coke (Real Stuff), Lemonade, Tonic Water- Diet & Full sugar in all soft drinks.
Bar snack nibbles.
Please Note – We reserve the right to refuse entry to anyone we feel is d*unk on arrival or to limit their drinks if we think they have d*unk too much.
The location will be sent to everyone attending on the day. What we can tell you is the party will be held in a Central Manchester location, so look for accommodation around the Arndale area.
To join this ONE OFF party in Manchester please message the club directly or post a message here.
Once you are added to the guest list Club Play (Paul & Dawn) or Joe & Polly the co-hosts will contact you with more details xxx