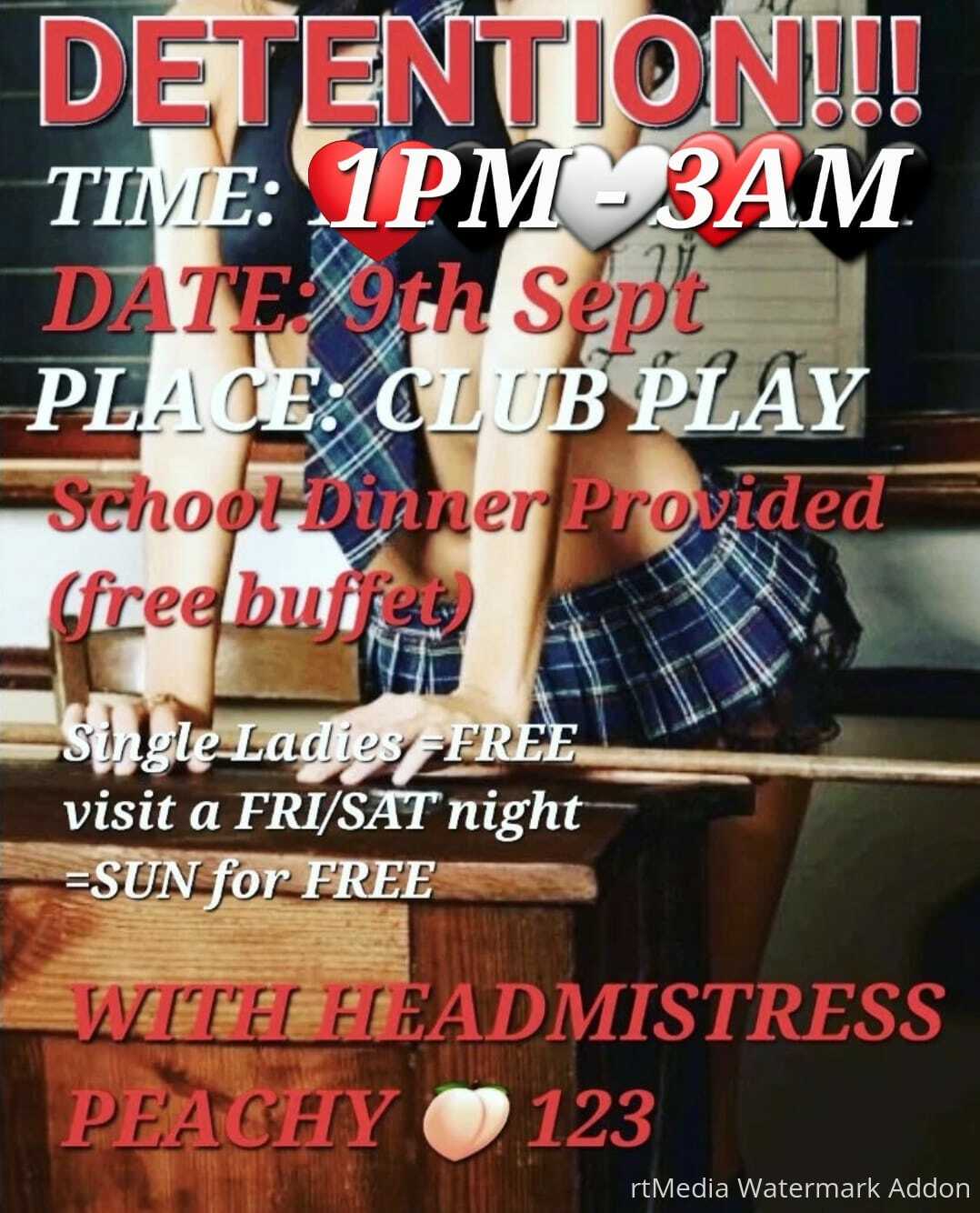 Calling all the Naughty people to the DETENTION ROOM(S) 

It has come to my attention that quite a NUMBER of you are on my REGISTER after hours for being UNRULY and DISRUPTIVE during SUMMER and I'm requesting YOUR presence 
The Summer holidays are OVER and it's time to get out from the back of the BIKE SHEDS and get back to CLASS 

OUR TEACHERS will be on hand to dish out those PUNISHMENTS if needed 
(Our Club Play Team).
There maybe a PREFECT or 2 as well who may want to give a SHOW & TELL 

Put on your UNIFORM and straighten that tie (or not) 

, pick up that EQUIPMENT and head on through the door because DETENTION has STARTED!!!!
Will you be writing lines?
Want the wrath of a ruler or 2?
The choice is YOURS 

With 19 Themed CLASSROOMS (rooms) to choose from as well as the SPORTS HALL (new pool area & sauna) there's plenty of choice to clock up further RED & GREEN SLIPS OR MERITS 

If you'd like to take a break there is a POOL TABLE (£1 per play)
You may find other PUPILS around to get into more trouble with but please do not run around the HALLS!!!
The only thing we don't want is people chewing gum or sitting with phones DISTRACTING you from the LESSONS at hand so there will be a £10 locker deposit to store all those valuables 

*we WONT be CONFISCATING YOUR ALCOHOL unless we feel we need to so BRING IT ALONG!!!
We will make sure that our TUCK SHOP (bar) will be fully stocked with soft drinks & mixers 

Pop your names onto the CHECKLIST and come be SAVED BY THE BELL or MAYBE NOT
Prices…..
Day only (1pm-7pm)
Couples £15
Single males £15
T girls £7
Single ladies *FREE ENTRY*
Night only (8pm-3am)
Couples £30
Single males £30
Single females *FREE ENTRY*
T girls £10
Or grab yourself a bargain 14 hours & do the day & night for just
£40 for couples
£40 Single guys
Single females *FREE ENTRY*
T girls £15
*Visit us ANY FRI/SAT NIGHT get Sundays
Visit for FREE (2pm-2am)
*We also have a deal with TITOS order in-house and mention your at club play and receive a discount (orders over £10) great for a sneaky snack!
**AS ALWAYS NO MEANS NO AT ANY TIME AND THIS GOLDEN RULE WILL NOT BE BROKEN**
To add to the guest list please add your name/names below or contact the club directly xxx