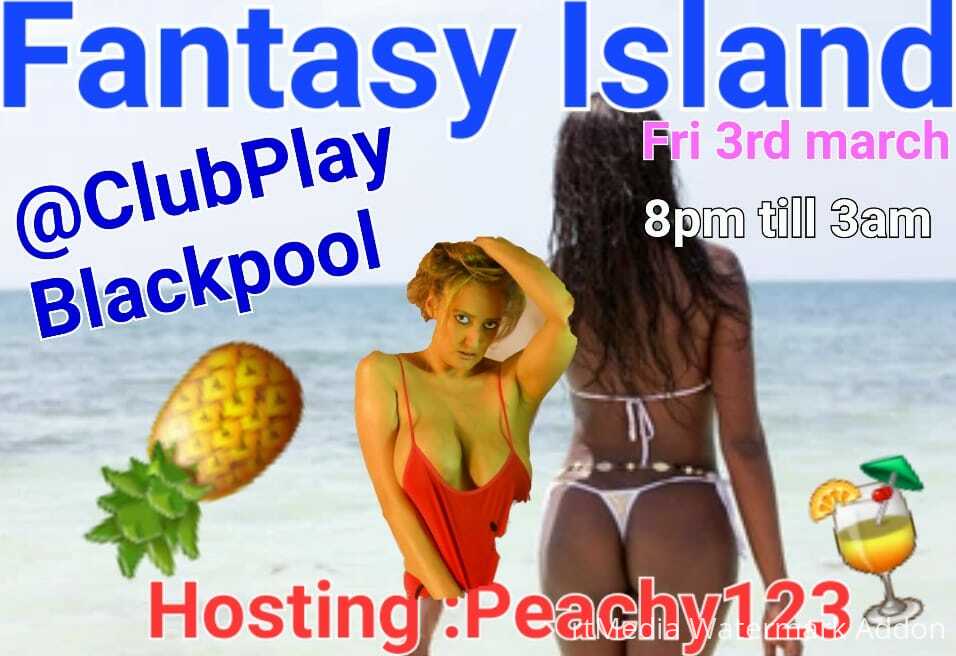 SPRING FLING
Once again FANTASY ISLAND is here.
A part of Blackpool that exceeds all your cheeky desires 

We're holding our SPRING FLING and you are ALL invited!!!!
Grab that beachwear, budgie smugglers, tie-dye tops or that skimpy bikini.
Feeling PLAY-FULL then why not grab a fun inflatable off the beachfront to bring in with you?
With CLUB PLAY newly refurbished what better way to enjoy all the new additions from the BIGGER locker rooms to the NEW heated pool 

(SOMEONE SAY WET T-SHIRT 

)
Don't wear anything ???
That's not a problem!! The new heating system throughout will keep you warm in that birthday suit!!!!
The party will be in full flow with cheeky a few tasty snacks to top up those energy levels this night will provide it all 


With more than 19 playrooms to choose from the choice is YOURS xx
Maybe you will be LEI in the right position to have your needs fulfilled ??
As normal SPRING FLING will have some cheeky games to help break that ice.
**.NO MEANS NO AT ALL TIMES THIS RULE WILL ALWAYS BE FOLLOWED **
As of this year with the rise in costs, there will be a towel charge of £1 put into place.
Although we do encourage you to bring your own if you wish too 

There will also be a £10 refundable deposit for your locker (after all its were we like those mobiles and valuables to live)
This can either be redeemed at the end of the night or knocked off your drinks bill 

We are a BYOB for this event, though we do sell the mixers and snacks at the bar.
Prices are…..
Single males …. £25
Couples…….£25
Single ladies ….£10
T.girls…….£10
LET THE FUN BEGIN 
Add your name below or message the club directly to get on the guest list xxx