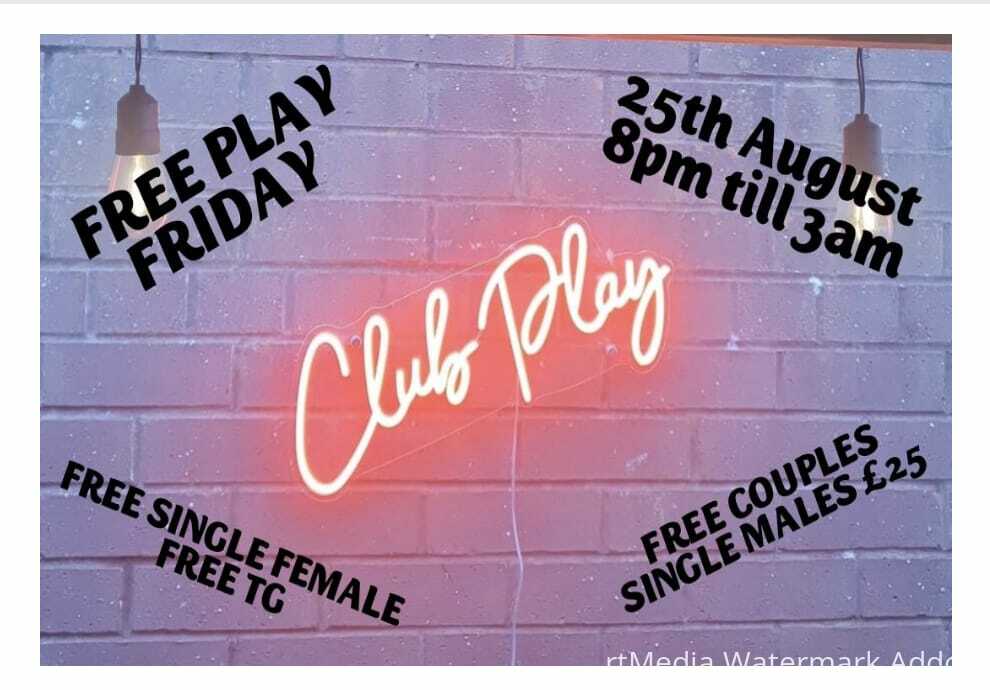 FREE PLAY FRIDAY 

YES, IT'S TOTALLY FREE ENTRY FOR –
COUPLES, SINGLE LADIES & T GIRLS!!
\\ ONLY CLUB EVER TO DO IT ////
Place – Club Play – Friday 25th August
Time – 8 pm – 4 am
Club play update –
CUM TO CLUB PLAY ANY FRIDAY OR SAT NIGHT & YOU WILL GET –
*** FREE ENTRY ON THAT SUNDAY 2 pm-2 am ***
\ So if you come to this event you will be entitled to FREE entry to club play on Sunday that weekend if you want it ////
NOW & EVERY WEEKEND ONLY @ CLUB PLAY!
Hosts – Club Play – Paul

 & Dawn 

Entry price –
Membership – FREE
Couples – FREE
Single Ladies – FREE
Tgirls,TS,s,Trans – FREE
Single Men – £25 – This is to naturally limit the number of single men attending.
A refundable £10 locker deposit is all that's required AND to be on the guest list!
Towel Hire – £1 or bring your own.
We like to be innovative & different at Club Play and give back & show you all some love 


 THIS NIGHT WE WILL HAVE A FULLY LICENSED BAR 

We will be selling acholic drinks at reasonable prices with a well-stocked bar and you will even be able to double your drinks shots up for only £1 extra! so please don't bring your own on this night it will not be aloud xxx
Bar prices –
Shots (Branded spirits) – £2.00 a single & double up for only £1! BUY 5 shots doubles or singles at the same time and get a 6th FREE!
Mixers
All mixers – £1.50
A glass of wine from – Small £2.50 – Medium £3.50 Large £4.50
Lager's – £2.50 – £4.00 depending on Brand & Strength
We will also be doing some special offers on the night like –
3 Jayga Bombs for only £5 

If you need accommodation get it booked now at reasonable prices not to be disappointed and the reason we listed this event so early! as a tip try and book the Avant Garde swingers hotel.
We expect this night to be very busy so get your names down NOW as we expect this to be a full house & we will stop the guest list when it is full!
See you there xxx
To add to the guest list please add a comment below or message the club directly xxx
Paul

 & Dawn