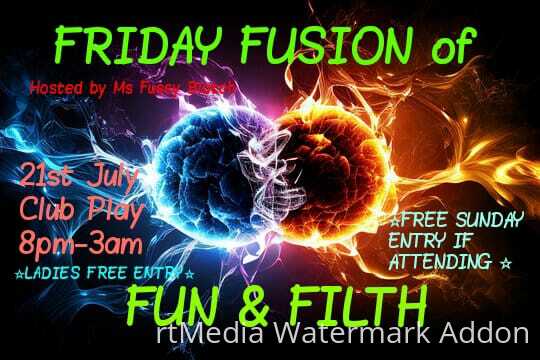 ** FRIDAY FUSION of FUN + FILTH **
Friday 21st July
8pm-3am
Ms Fussy Biatch is bringing you a new Friday Night Party! 

Moving on from FRISKY FRIDAY she has decided to spice things up & give a new twist to these nights so brings you a FRIDAY FUSION of FUN + FILTH! 
A fun night of games & debauchery awaits you at
Club Play
Back Ribble Road
Blackpool
Wind down in the hot tub, get your disco diva on the dancefloor, maybe a game of strip pool or join in with 1 of the other games on the night, whatever gives you that frisky Friday feeling you can find it here!
Dress or undress however you feel sexy!!
Upstairs is however dress down.
With the choice of plenty of play rooms including a gang bang room, large open stage, neon room, voyeur room, glory holes & many more there is something for everyone.
Prices
Ladies
*FREE ENTRY*
Tv/ts
£10
Couples
£25
Males
£25
There is also a refundable locker deposit of £10 which you will get back upon return of the locker key minus any drinks purchased from the bar.
£1 towel hire or welcome to bring your own
We are a BYO venue. Please bring your own spirits/alcohol, soft drinks & mixers can be purchased from the bar.
We have a strict NO MEANS NO policy & take a zero-tolerance approach.

CLUB PLAY Radical update –
Want more bang for your buck?
CUM TO ClUB PLAY ANY FRI OR SAT NIGHT & GET FREE ENTRY ON SUNDAY NIGHT 2 pm-2 am,
EVERY WEEKEND ONLY @ CLUB PLAY!

To add to the guest list, please leave a comment below or message the club direct xxx