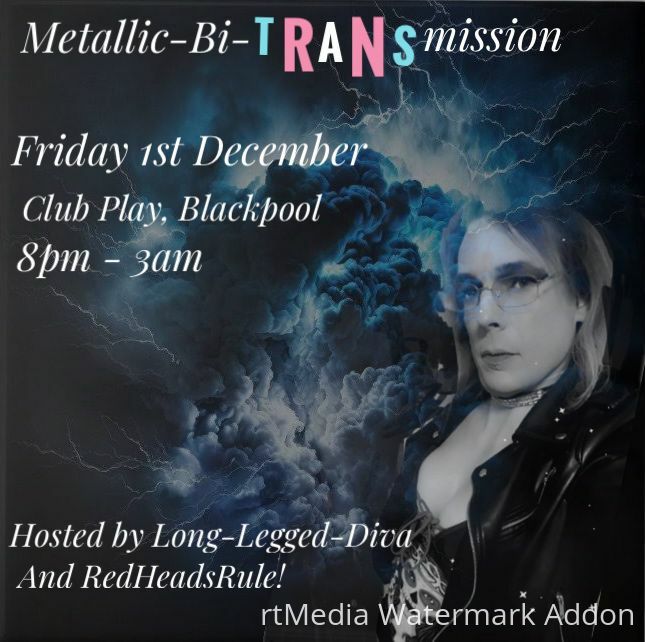 Friday 1st December @ Club Play, Back Ribble Road, Blackpool. 8pm – 3a3am
Oh my god, the famous Long-legged-diva herself is finally hosting with the help of my close friend, confidante and fellow glamour girl; Mrs Red of Redheadsrule!
The club recently celebrated its 5th birthday and I was there from the start! Now it's my turn to celebrate!
1st December 2023 is my 4th Tranniversary, 4 years living as the woman I always should have been.
Those that know me know how the club shaped me and allowed me to grow from the shy occasional dresser, to the confident, outgoing diva of a woman I am today.
To celebrate, I'm combining all my favourite events into one, so I'm calling all bisexual and bicurious couples, women, men, transgender and transsexual folk to come and rock out with you cock out, in, out (your get the idea) at the ultimate bisexual mosh pit! With music from the diva's favourite artists it's sure to be a night to remember.
Metallica, Distrurbed, Five Finger Death Punch, Volbeat, Foo Fighters, AC/DC, Iron Maiden, Stone Sour and many many more
VERY IMPORTANT ALL THE GUEST ARE 100% BISEXUAL OR BI-CURIOUS Xxx
This ensures the best mix of people and the best kind of fun!
Club Play has excellent facilities & plenty of private playrooms to cater for all your fantasies including female glory holes & an open stage. Of course there is the NEW POOL ROOM with hot tub too!
Come along and join the best Bi-Party around
The first 3 trans girls to ask will have the option of arriving early, with assistance given with makeup by either Mrs Red the Diva herself, although there will be no bar service early doors!
This is Single Ladies ~ *Freee*
Couples ~ £25
Single Males ~ £25
T Girls ~ £10
* FREE SUNDAY ENTRY FOR ATTENDING *
£10 locker deposit is also required which is returned less any soft drinks purchased from the bar.
Towels can be hired for £1 or you are welcome to bring your own.
Remember the GOLDEN RULE… NO means NO at all times & we take a zero tolerance to anyone who breaks this.