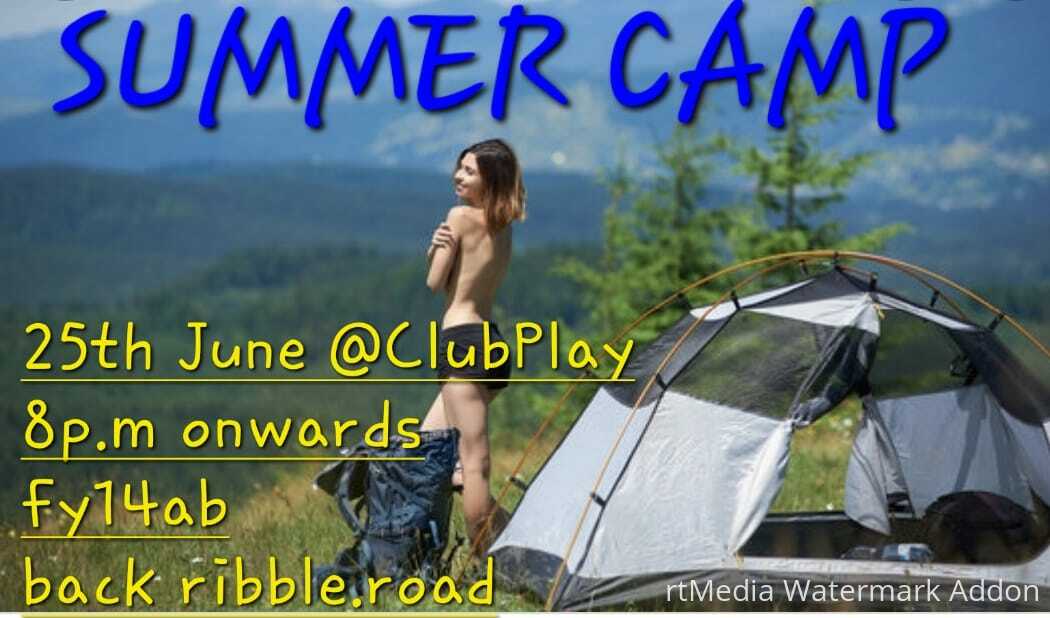 CAMP PLAY
THAT ONE TIME AT ………….CAMP!!!
YES our summer camp has arrived and NO we won't be singing ging gang goolie round a fire either because hopefully they'll be being played with 

Like all nights we're hoping it's one to truly remember !!!


Who will ignite your campfire?
And will they make you soft like a marshmallow?

Will you be screaming smore !!!
We will be bringing out the limbo pole for those who wish to take part and a few other camp games, fancy dress is always optional but also adds a lot of fun to the evening.
Summer camp is for everybody and the battle of the sexes is on !!!
(after all a little healthy competition is good to get those sparks going)
Hope you all cum by ahhhhhh ??
There will be a FREE BUFFET on the night to keep those energy levels risen.
Will you have the ultimate CAMP PLAY EXPERIENCE ??
Club Play has excellent facilities & plenty of private playrooms to cater for all your fantasies including female glory holes & an open stage!
Of course the wet area with Hot Tub & Sauna for winding down too.
??As per all club nights the standard rule of NO means NO will apply and breaking of this rule will not be tolerated.??
This is a bring your own alcohol event just purchase soft drinks at the bar.??
If it happens to be your first time please do tell us.
We will be happy to give you a tour and answer any questions you may have.
So what are you waiting for, pop your names on the guestlist below xxxx
Prices
Couples £30
Single males £30
Single females  &
T girls £10
There is also a refundable £10 locker deposit less any drinks purchased from the bar.
To Add to the guest list add a comment below or contact the club direct xxx
Club Play xxxx