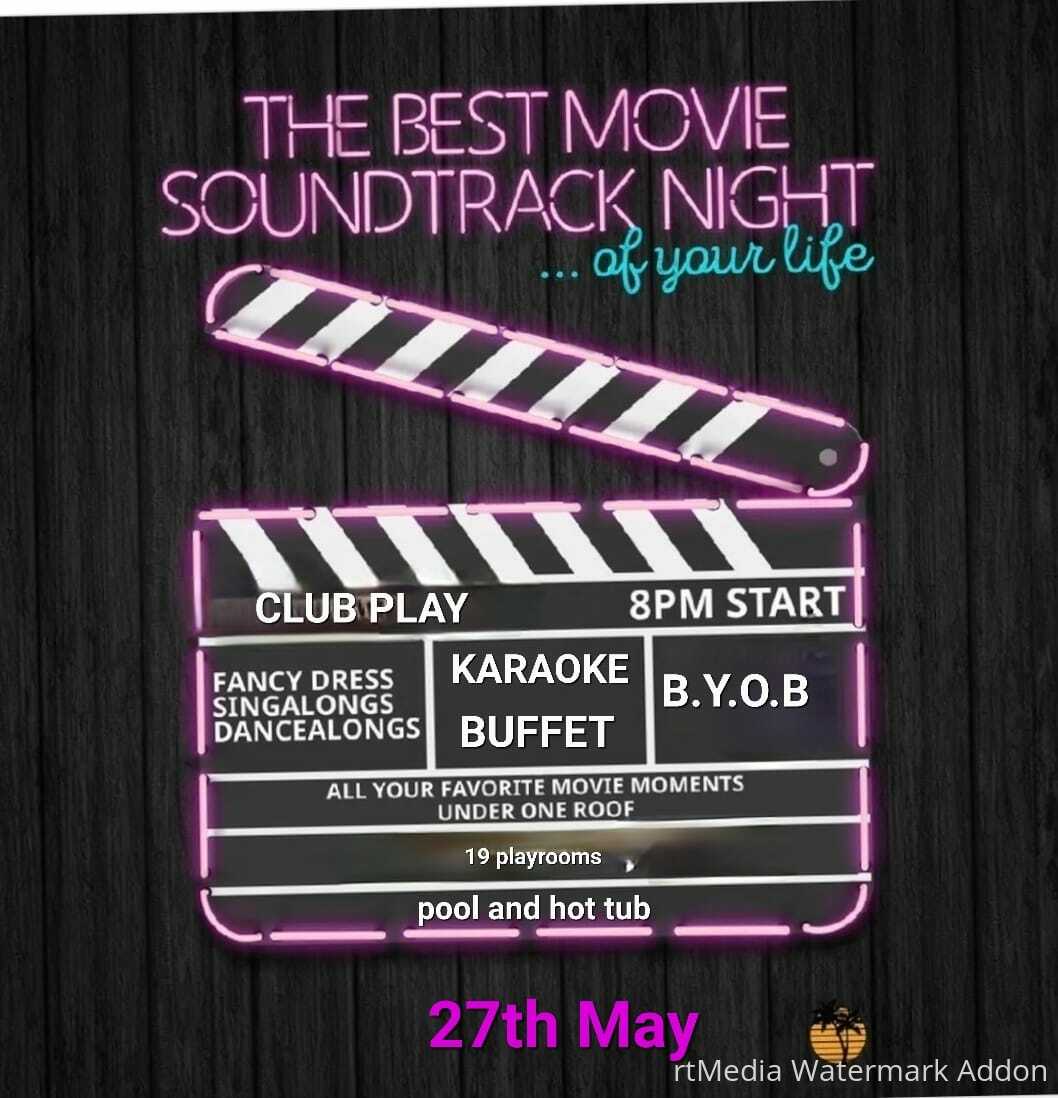 We invite you to join us on Saturday the 27th May for the BEST MOVIE SOUNDTRACK NIGHT….of your life!
From the classics like Grease, dirty dancing, and Footloose to the ones you may have forgotten about like Purple Rain, Lost Boys, Guardians of the Galaxy, and the breakfast club, this really will be a night of epic tunes!
Feel free to dress up as your favorite character, or simply come in your favorite club attire, just don't forget your dancing shoes! As usual with all our music themed events there will be karaoke and a live dj for all your requests.
The club will be open from 12pm to dinnertime, with relaxing tunes and all 19 playrooms at your disposal, plus our BRAND NEW WET AREA, the pool is proving very popular!
The main dj/karaoke will start at 8 pm but please do feel free to join us earlier, we are open right through from 12 am to 3 am.
Even better, all single ladies are now FREE ENTRY! So gather up those girly friends and come dance and sing the night away in a safe environment!
This is a bring-your-own alcohol event, mixers, and soft drinks are available to purchase from behind our well stocked bar from the sexiest bar ladies e
Towel hire is £1 or a fee or feel free to bring your own.
DAYTIME-ONLY ENTRY PRICE –
Time 12 pm (Noon) – 7 pm
Couples – £15
Single Men – £15
Trans & Tgirls – £7.00
EVENING-ONLY ENTRY PRICE 7 PM – 3 AM
Nighttime event –
Couples – £30
Single Men – £30
Trans & Tgirls – £10
Time NOON 12 pm – 3 AM
ALL DAY & NIGHT ENTRY PRICE –
Stay all day and night until 3 am or leave and come back at any time you like xxx
Includes a FREE buffet at 11 pm
Couples – £40
Single Men – £40
Trans & Tgirls -£15
We really hope you can all join us
to add the guest list please add a comment below or message the club directly  xxx