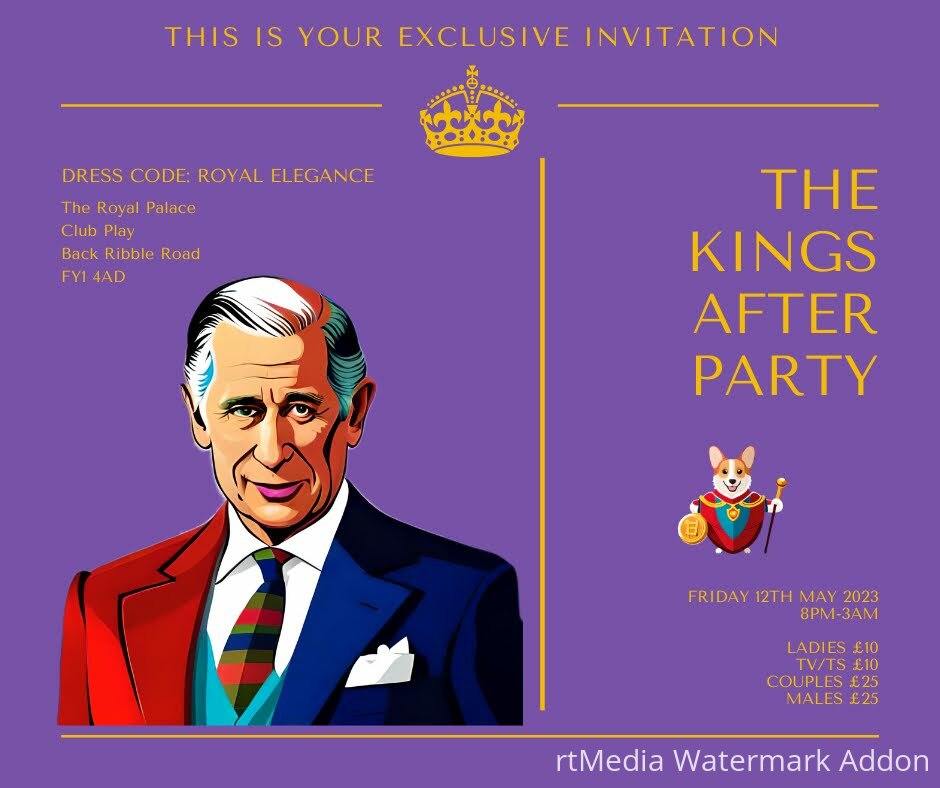 Dear esteemed guests,
We cordially invite you to a very special after-party to celebrate the coronation of our new king. Join us for an unforgettable evening of luxurious indulgence, vibrant entertainment, and delectable refreshments that are sure to leave you mesmerized. The party will be held at the prestigious Royal Club Play Palace, where you'll be greeted by a team of courteous attendants (Debs, Gemma and Vicky), who will guide you to the elegantly decorated ballroom.
The atmosphere will be electric, with music, dancing, and laughter filling the air. Our chefs (Paul) will prepare a sumptuous feast for you to enjoy, with a variety of cuisines from around the world (nuggets, sausage rolls and quiche), paired with an extensive selection of premium wines and spirits (that you bring yourself – BYOB). The dress code is royal elegance, so come dressed to impress and be ready to experience the grandeur of royalty. Upstairs is however dress down.
With the choice of plenty of play rooms in the palace including a gang bang room, large open stage, neon room, voyeur room, glory holes & many more there is something for everyone.
Prices
Tv/ts £10
Couples £25
Males £25
There is also a refundable locker deposit of £10 which you will get back upon return of the locker key minus any drinks purchased from the bar.
£1 towel hire or welcome to bring your own
We are a BYO venue. Please bring your own spirits/alcohol, soft drinks & mixers can be purchased from the bar.
This exclusive event is reserved for our esteemed guests, and we anticipate a night of excitement, camaraderie, celebration and debauchery. We look forward to having you join us in this once-in-a-lifetime experience to honor our new king. Please RSVP at your earliest convenience to confirm your attendance, and don't hesitate to contact us for any further inquiries. We can't wait to celebrate with you!
Sincerely, The Royal Palace Event Committee.
PS: We have a strict NO MEANS NO policy & take a zero-tolerance approach.
To add to the guest list please comment below or send the club a message xxx