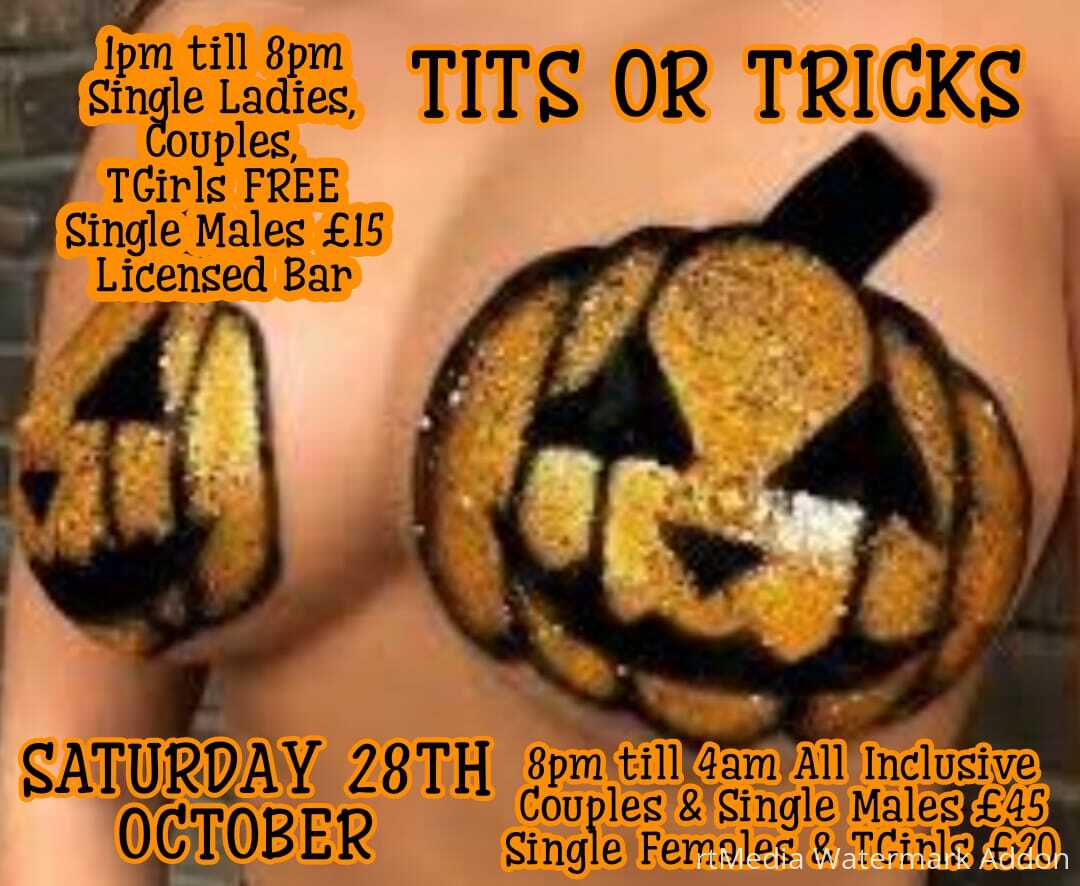 ' TITS or TRICKS '

 CLUB PLAYS MAIN HALLOWEEN PARTY 

SAT OCT 28th
***1PM-8PM FREE ENTRYB-LADIES-COUPLES-TGIRLS-FULLY LICENSED BAR***
8PM-4PM LIVE ACTS-DJ-FREE FULLY LICENSED BAR/BOOZE-GAMES-PRIZES?
\\\ A MASSIVE GUEST LIST FROM OUR CLUB MEMBERS FROM OUR SITE ///

 TITS or TRICKS HALLOWEEN PARTY

Place – Club Play Saturday 28th October
Hosts – Club Play – Paul & Dawn
Dress code – Halloween for the fun of the party or smart causal for men and sexy outfits for the ladies xxx
This very special evening will include –
*** FREE BOOZE & SOFT DRINKS ALL NIGHT & LIVE ACTS & FREE BUFFET ***
8 PM–4 AM!! YES A FREE BAR TILL 4 AM
*** FREE ENTRY SAT AFTERNOON 1 PM -8 PM COUPLES, SINGLE LADIES & TGIRLS ***
**** A Halloween Chocolate Bar for everyone with Golden tickets hidden with MASSIVE MONSTER prizes ****
//// SOME VERY SPECIAL LIVE PERFORMANCES \\
 *** MONSTER MUNCH HUMAN BUFFET ***
 *** STRIP TEASE ***
 *** POLE DANCER ***
 *** LIVE DJ ***
 *** TIT'S OR TRICKS GAME ON THE DANCE FLOOR ***
Dress code – Halloween Fancy Dress or smart casual/sexy dress
EACH COUPLE OR SINGLE WILL GET A FREE CHOCOLATE BAR ON EVENING ENTRY – 5 GOLDEN TICKETS WILL BE HIDDEN AT RANDOM IN THEM
THE PRIZES ARE –
 1, A Whole Months Free Entry
 2, Two Weeks Free Entry
 3, One Week Free Entry
 4, Bottle Of Prosecco
 5, Large box of Chocolate
This event will have a FREE-themed Halloween buffet (think wedding cold buffet) like we do every Saturday night.
Sat Oct 29th, 1 PM – 8 PM
*** JUST BUY ALL YOUR DRINKS FROM OUR FULLY LICENSED BAR ***
Couple – FREE
Single Ladies – FREE
Tgirl, TS's or Trans – FREE
Single Men – £15 Single Men — This is to naturally limit the number of single men attending.
A refundable £10 locker deposit.
Towel Hire – £1 or bring your own.
Sat Oct 29th, 8 PM – 3 AM ALL-INCLUSIVE PRICE –
WITH FREE BOOZE & SOFT DRINKS ALL NIGHT
£45 a Couple
£45 a Single Male
£20 a Sigle Lady
£20 Tgirl, TS's or Trans
£1 towel charge will be in place, you are welcome to bring your own towel.
Refundable locker deposit – £10
Bar Stocked With –
 Monster Blood Punch

 Prosecco, White, Red & Rose Wine

 Vodka (Branded not Cheap)

 Bacardi (Real Stuff not cheap)

 Gin (Branded not Cheap)

 Whisky (Branded not Cheap)

 Quality Lager's Usually – Budweiser, Stella, Carlsberg, etc (Lager's can change party to party)
Soft Drinks – Coke (Real Stuff), Lemonade, Tonic Water- Diet & Full sugar in all soft drinks & assorted cans like Fanta, 7up, etc
Orange juice and bottled water.
Please Note – We reserve the right to refuse entry to anyone we feel is d*unk on arrival or to limit their drinks if we think they have d*unk too much.
Hotels & Guest-houses- Believe it or not, it can be cheaper to book a Friday & Saturday night together than just a Friday or Saturday night alone- SO BOOK NOW TO AVOID DISSAPOINTMENT!

 PRIZES & TREATS with a FEW SURPRISES on the night! 

If you like to join the fun & games message us or post here in the forum to get on the guestlist xxx
Paul 

 & Dawn