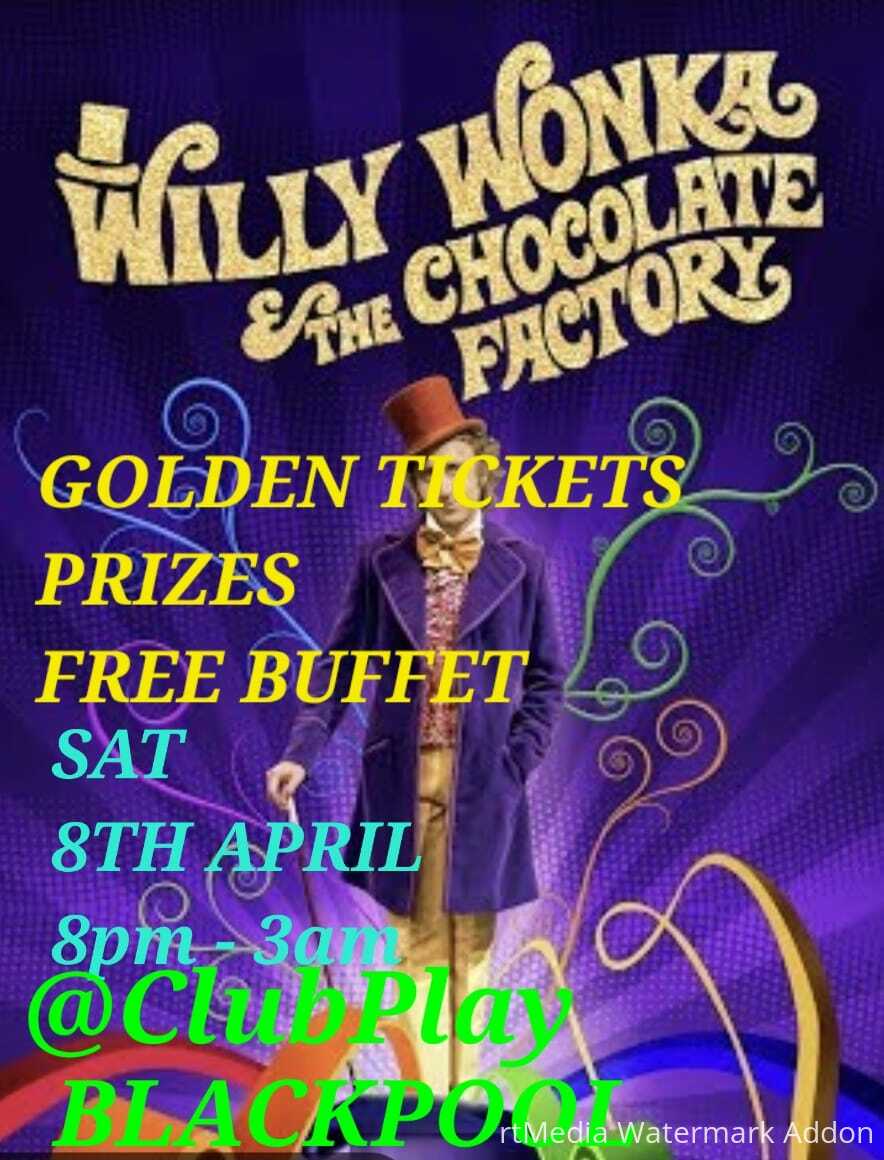 WILLY WONKAS CHOCOLATE ALL INCLUSIVE PARTY
*** FREE BOOZE & SOFT DRINKS ALL NIGHT ***
CLUB PLAY SAT 8th APRIL 7PM – 4AM!! YES A FREE BAR TILL 4AM ***
*** The most famous party on Fab that never was is back BIGGER & BETTER THAN EVER!***
***GOLD TICKETS**BIG PRIZES***A WHOLE MONTH FREE ENTRY***
Hosts – Paul 

 & Dawn 

As it's Easter weekend we will be holding a Willy Wonka's Chocolate factory Theme – win BIG PRIZE'S LIKE IN THE FILM

 So cum and join us in a world of pure imagination any you will see paradise 

The club will be dressed for this event & we will be dressed in Fancy dress for this event!!
Dress code – Willy Wonka Fancy Dress or smart casual/sexy dress
EACH COUPLE OR SINGLE WILL GET A FREE CHOCOLATE BAR ON ENTRY – 5 GOLDEN TICKETS WILL BE HIDDEN AT RANDOM IN THEM & THE PRIZES ARE –
1, A Whole Months Free Entry
2, Two Weeks Free Entry
3, One Week Free Entry
4, Large Luxury Chocolate Egg
5, Large Chocolate Bunny

 The club will also be full of FREE chocolate & eggs everywhere 

WE WILL ALSO HAVE A CHOCOLATE FOUNTAIN
WITH CHOCOLATE PLAY ON THE POOL TABLE – Melted chocolate poured onto willing victims to be licked and sucked off 
This event will have a FREE full-quality buffet (think wedding cold buffet) like we do every Saturday.
WITH FREE BOOZE & SOFT DRINKS –
Sat 8th April ALL-INCLUSIVE PRICE –
£50 a Couple
£50 a Single Male
£20 a Sigle Lady
£20 TV's, TS's or Trans
Refundable locker deposit – £10
Included in the party price will be all your alcoholic drinks and soft drinks for the evening with a quality Home Cooked buffet (think wedding buffet with sweets) served to you by our resident Bar staff.
Bar Stocked With –

 Willy's punch

 Prosecco, White, Red & Rose Wine

 Vodka (Branded not Cheap)

 Bacardi (Real Stuff not cheap)

 Gin (Branded not Cheap)

 Spiced Rum (Branded not Cheap)

 Whisky (Branded not Cheap)

 Quality Lager's Usually –  Budweiser, Stella, Carlsberg, etc (Lager's can change party to party)
Soft Drinks – Coke (Real Stuff), Lemonade, Tonic Water- Diet & Full sugar in all soft drinks & assorted cans like Fanta, 7up, etc
Orange juice & Bottled water.
Please Note – We reserve the right to refuse entry to anyone we feel is d*unk on arrival or to limit their drinks if we think they have d*unk too much.
Hotels & Guest-houses- Believe it or not, it can be cheaper to book a Friday & Saturday night together than just a Friday or Saturday night alone- SO BOOK NOW TO AVOID DISSAPOINTMENT! Hint – Try booking the Avant Garde swinger hotel around the corner from our club.
PRIZES & TREATS with a FEW SURPRISES on the night!
The night will be a night of big surprises, so let your imagination run wild and cum and enjoy yourselves with us on this Easter Saturday Xx
If you like to join the fun & games message us or post here in the forum to get on the guestlist Xx
Paul 

 & Dawn