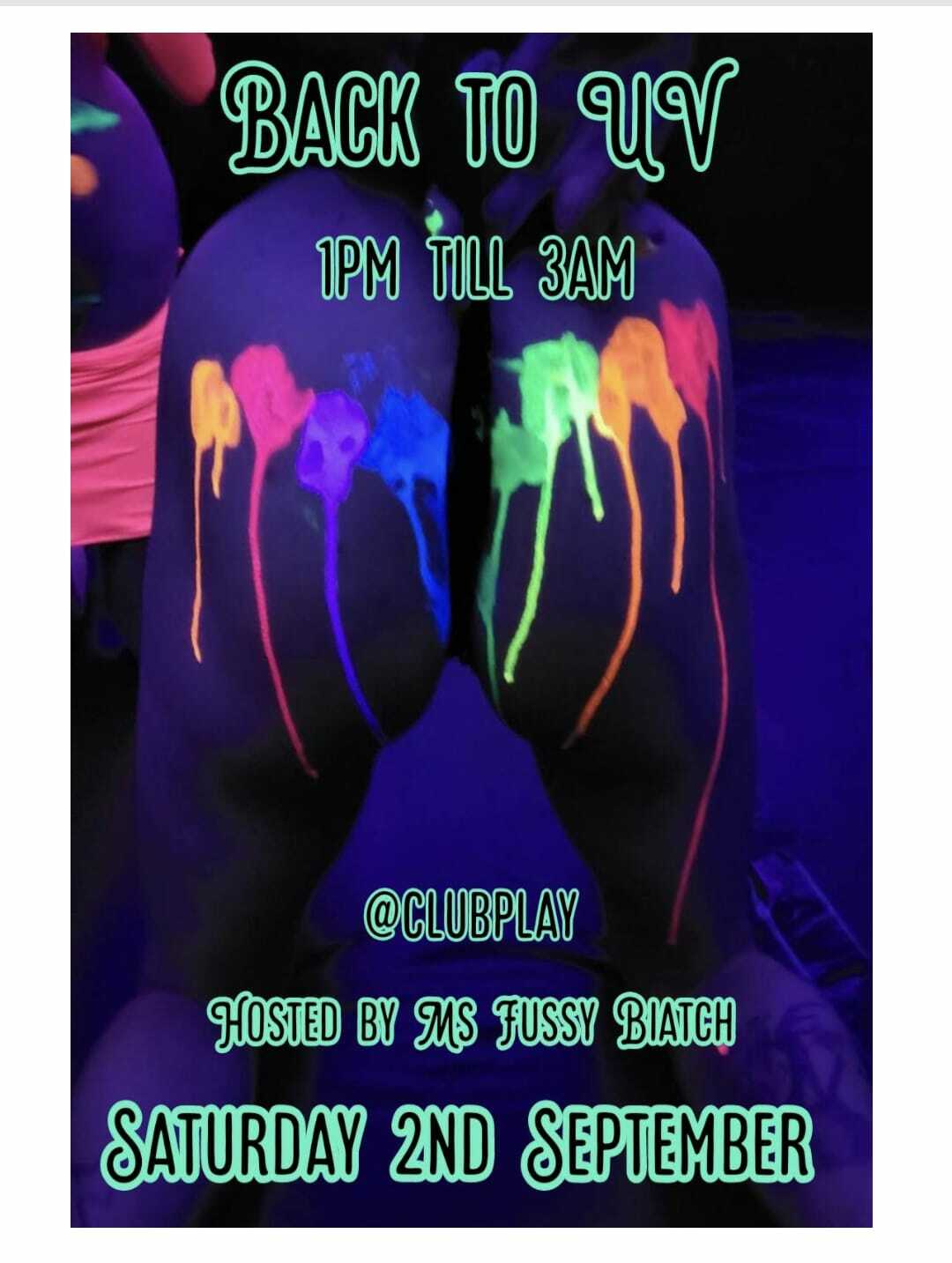 ** UV PARTY ** BACK TO UV **
Sat 2nd September
Club Play
Blackpool
To celebrate the return to school for the kids after a long summer holiday Ms Fussy Biatch brings you ** BACK TO UV ** with optional school uniform theme! Bonus points if you have a neon one!! 
The club opens at 12pm (noon) for a chilled-out day before the real party begins at 8pm!!
If you've attended one of Ms FB'S previous UV parties you will know these are nights not to be missed!
We love to party & socialize so we're bringing you an all-out party with the best dance tunes, glow sticks, uv paint & a fun night of partying, dancing & all the fun of any other club night.
Let your hair down, drag out your favorite party wear & come along & join us!
This is going to be another amazing night with UV body painting as always for you sexy guests! But that's not all… this time around Ms Fussy Biatch has arranged for a professional photographer to come in & take photos of you all glowing for your use wherever you want to display them! These parties just get better!

Club Play has excellent facilities
& plenty of private playrooms with **NEW AIR CON** throughout to cater for all your fantasies including female glory holes & an open stage! Of course the *NEW* wet area with Hot Tub & heated pool are perfect for winding down in too.
As per all club nights, the standard rule of NO means NO will apply and breaking of this rule will not be tolerated.
This is a bring-your-own-alcohol event just purchase soft drinks at the bar.
Prices are~
Day only (12pm-7pm)
Couples £15
Single males £15
T girls £7
Single ladies *FREE ENTRY*
Night only (8pm-3am)
Couples £30
Single males £30
Single females *FREE ENTRY*
T girls £10
Or grab yourself a bargain 15 hours & do the day & night for just £40 for couples & Single guys!
T girls £15
Single ladies *FREE ENTRY*
There is also a refundable £10 locker deposit less any drinks purchased from the bar.
£1 towel charge will be in place although you are welcome to bring your own towel if you like.
There will also be a draw on the night for anyone attending who lists a meet on their profile for *FREE ENTRY* to the next UV Party!!
Adding a meet also helps you to find & connect with anyone else who's attending
**FREE ENTRY SUNDAY** for attending any Friday or Saturday night!!
We look forward to seeing you there!